Donald Mineral Sands Project
The Donald Mineral Sands project represents an important new source of global supply at a time of robust demand and challenged supply, with the maturing of established production sources and a lack of quality, well advanced new projects. Donald represents a Tier One deposit in terms of scale, potential production longevity; an anticipated mine life of at least 40 years, and the value of mineral assemblage, notably the zircon content.
The Donald Mineral Sands project has a total Mineral Resource of 5.7 billion tonnes of ore, at an average heavy mineral (HM) grade of 3.2% and consists of two deposits, Donald and Jackson. Within the Donald deposit area, there are Ore Reserves of 602 million tonnes (mt) of ore, with an average HM grade of 4.8%. This equates to an approximate, in-situ ore body of 28.9mt of heavy minerals, comprised of 5.4mt of zircon, 9.2mt of ilmenite, 8mt of higher titanium content products of rutile and leucoxene, as well as a significant rare earth element component of 491 thousand tonnes.
The Donald Mineral Sands project is located in regional Victoria and encompasses a total tenement area of 426km2. The area is mainly cleared land, used for cropping and grazing and is located close to infrastructure.
The Donald and Jackson deposits are WIM style heavy mineral sands accumulations. Donald will represent the one of the first commercial developments of such a deposit, and is amenable to a staged, long life mining operation.
The Donald Mineral Sands project has been subject to detailed evaluation over many years, with all main regulatory approvals completed or well advanced.
Ore Reserves & Mineral Resources
The Donald MIneral Sands project is a globally significant, Tier 1 source of mineral sands, with a material in-situ titanium dioxide and zircon content, plus a significant rare earth element.
Staged Development Approach
Stage 1
Stage 1
Stage 1 of the project will occur predominantly within MIN5532. This mining licence area contains an estimated Ore Reserve of 194mt of ore, at an average heavy mineral (HM) grade of 5.3% (including proved reserves of 170mt at 5.3% HM and probable reserves of 24mt at 4.9% HM).  For MIN5532, there are estimated in-situ HM of 10.2mt and an in-situ zircon of ~1.95mt.  
The main regulatory approvals, including an Environmental Effects Statement (EES) for mining activities within MIN5532 have been obtained, and cover the area that will encompass mining activities for the first 8 years. Stage 1 production dimensions include an estimated average ore throughput of 7.5 mtpa with ~475ktpa of heavy mineral concentrate (HMC) produced, ramping up in Stage 2 on RL2002 to an estimated 15 mtpa of ore production, with ~950ktpa of HMC.
Stage 2
Donald Mineral Sands project
Updated Ore Reserve and Mineral Resource Statement – announced February 2021
Metallurgical test work for mineral separation of heavy mineral concentrate – announced February 2021
Establishment of a Community Reference Group and completion of community update sessions
Completion of air and noise studies and rehabilitation planning, leading to work plan submission
Revised capital and operational expenditure estimates
Definitive feasibility study completion
Project funding, expected to include a combination of equity, debt and off-take agreements
Detailed engineering and project optimisation with identification and procurement of long lead items
Project work plan approval and commencement of construction
Ilmenite ore and filter press with spirals banks in the background
Mining, Concentrating, Processing & Rehabilitation
Mineral sands mining involves four main stages: mining, wet concentration, dry separation and rehabilitation. Mining can be performed either by dry mining methods (employing scrapers, dozers and excavators, typical for dunal deposits) or a wet mining process (employing floating dredges, typical for large unconsolidated deposits).
Mining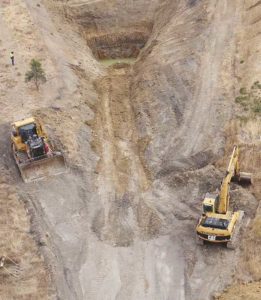 A conventional approach to top soil removal, overburden removal and ore mining will occur. Top soil and overburden are stored separately for rehabilitation purposes.
Mining of the first stage of the project is based on a single pit configuration, commencing at the centre of the ore body and comprising a single face. Ore will be mined using trucks and excavators through a contract mining approach. The average strip ratio over the life of the mine is 2.6:1.
Ore mined will be hauled to a semi-mobile mining unit plant (MUP), located outside of the pit, where oversized material will be screened, with the resultant slurry pumped to a wet concentrator plant (WCP) for processing into HMC.